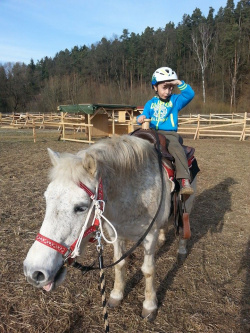 Hotel Klor offers a wide range of activities and services that we are able to provide families with children, whether you are visiting us in order to laze, celebrate, relax actively or anything else. Local walks in the beautiful countryside Few can resist. Your kids can collect mushrooms with you, bathe in the river Malši, fish, play in the meadow. We recommend a scenic bicycle route "Slower" or go on trips to distant cities, villages and other interesting places that have a lot to offer.
If you have your own wheels, do not worry, we will of course lend. Likewise, we can provide canoes and rafts, massages, booking tickets and excursions by plane from our own airport, which is 1.5 km away. If you are flying your own plane, and even to rent hangar.
Near our hotel there is also a barn, where we can arrange horse riding and pony trekking. Nearby is the local sports center where you can tire your kids volleyball, tennis ... In winter operation lighted ski lift and an ice rink. In this region often organize various cultural events such as the harvest festival, carnival or dance performances Doudleban file. Do not worry about anything we ask, we are happy to oblige.
In our hotel has a heated indoor pool. There is also a children's playground, party games, swings in the garden, a cozy fireplace, great piano playing, and a large party either inside the restaurant or outside on the terrace. If you come here in order to celebrate an event, you can contact our services absolutely rely on. We provide excellent catering, banquets, barbecues, music (live) accompaniment, decorations, photographer, cameraman, anything you can imagine.
Still not sure? Check out the photo gallery for complete conviction.
Reservation
Come to us ...