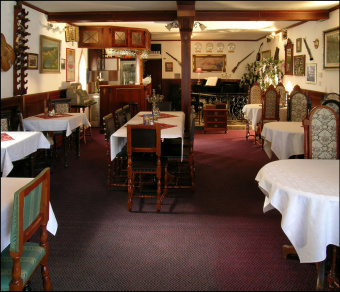 Enhance your stay sitting in our stylish restaurant, where you can have breakfast every morning. Breakfast is served buffet style and are included in the price. Enjoy a delicious breakfast at the English chair and full of energy to go for adventure in the day.
The restaurant is open only for our hotel guests, everyone can see it. The restaurant has 50 seats and the lounge is a place where the next 12th If you have found favor in Klor here and would like to organize an event, do not hesitate to contact us. Readily adapt to the requirements. Playfully manage to wedding celebrations, corporate training, seminars, presentations, workshops, grill parties or other events. During these meetings will prepare a special menu according to your requirements. Pleasant evening also offers a piano bar with fireplace or sit on the outdoor terrace.
FROM 01.10.2014 till 31.03.2015 THE RESTAURANT IS CLOSED!
Breakfast is served continuously from 07.00 to 10.00 hours.

FOR PARTIES AND EVENTS CALL +420 602140 408
MENU:
STARTERS:
100 grams of salmon tartare 89 CZK
100 g Shrimp Cocktail 69 CZK
2 pieces of toast Šumavská 49 CZK
2 pieces of toast Devil 66 CZK
SOUPS:
South Bohemia Kyselica 45 CZK
Garlic - with cheese, ham and croutons CZK 30
Beef broth 25 CZK
CHICKEN:
150g chicken fillet 85 CZK
150g Chicken steak in cheese batter CZK 99
150g chicken steak coated in corn flakes 109 CZK
150 g Hangman crack 89 CZK
300 g Chicken Risotto 112 CZK
PORK:
150g pork fillet 89 CZK
150 grams Marinated pork with sauerkraut and potato pancakes 129 CZK
BEEF:
200 g Medallion of beef with mushrooms 149 CZK
250 g Beefsteak with roasted green beans with bacon and pepper sauce 259 CZK
250 g Beef steak with herb butter 149 CZK
FISH:
200g Grilled salmon - served on a bed of spinach 189 CZK
200g Grilled trout - with rosemary and herb butter 165 CZK
Specialties:
250 g skewer "Delicacy" - pork tenderloin and chicken breast, interleaved
bacon, onion and mild sauce 180 CZK
200 g Pork Tenderloin with Shallots, a mixture of Chinese and spicy sauce 120 CZK
200g Marinated pork tenderloin with chanterelle sauce 149 CZK
200g Chicken steak with bacon, mushrooms and olives in a creamy sauce wound 135 CZK
200g Pork tenderloin stuffed with prunes - served on a bed of cheese 169 CZK
300g Filled "Mega" steak - chicken and pork with Dijon mustard,
stuffed with bacon, cheese, onion, mushrooms, chili and fried egg 199 CZK
Reservation
Come to us ...